Harrisburg, PA – The annual Local Marketing Mastermind event organized by Web 20 Ranker LLC is less than a month away. The event, scheduled to hold in St. Petersburg, FL, between September 16th and 18th, 2022, with an option for virtual attendance, got even better as the organizers have announced new perks available to participants.
In a recent announcement, the Local Marketing Mastermind organizers at Web 20 Ranker noted that all tickets (except for virtual attendance) now include the GoHighLevel subaccount and custom snapshot valued at $2,500! Web 20 Ranker LLC provides 12 months of GHL access for Exclusive level ticket holders; 6 months of access for Agency level; and 3 months for Entry level ticket holders.
The company's spokesperson, announcing the extra perks added to the tickets, noted that in-person participants, including new and existing ticket holders, will now receive this new perk with access to the software solution. The GoHighLevel subaccount and custom snapshot offer gives participants access to amazing features like missed-call-text-back feature, review management, website chat widget, automated workflows, centralized communications, social media schedulers, and other marketing automation.
Encouraging more interested people to sign up and purchase their tickets at https://web20ranker.com/local-marketing-mastermind-and-seo-conference/, the Web 20 Ranker LLC spokesperson said: "If you had the chance to save the time and hassle of figuring out how to scale your agency, you would take it. You already have the knowledge and expertise to retain clients, but what about acquiring them in the first place? How do you level up from a successful marketer to a 7-figure agency owner? Learn all of that and chart your way to becoming a bigger agency with our 8-figure Sales SOP at the Local Marketing Mastermind event."
The Local Marketing Mastermind event by Web 20 Ranker LLC promises to be packed with the latest insights into the digital marketing space and the newest strategies to help agency owners and SEOs achieve desired outcomes. The event will have top SEOs and digital marketers like Holly Starks, Michael Merlino, Brock Misner, Terry Samuels, Mike Milas, Allen Levings, Victor Perez, Bucky Helms, Eldar Cohen, and Jacob Kettner, in attendance. Each of these top-level SEOs will be sharing insights from their various specialty within the SEO world and how agency owners can adopt these to build an 8-figure empire.
Get the Local Marketing Mastermind Tickets online via the Web 20 Ranker LLC website. For more information, interested participants can call (855) 896-6657. Web 20 Ranker LLC is headquartered at 3915 Union Deposit Rd #918, Harrisburg, PA 17109, United States.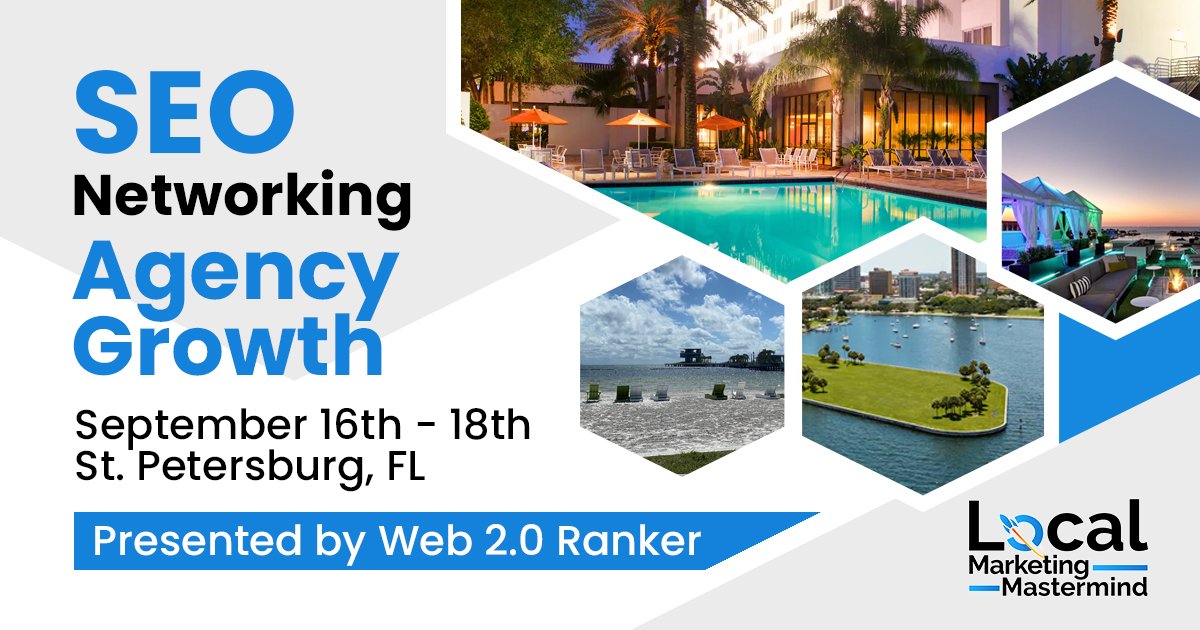 Media Contact

Company Name
Web 20 Ranker LLC
Phone
(855) 896-6657
Address
3915 Union Deposit Rd #918
City
Harrisburg
State
PA
Postal Code
17109
Country
United States
Website
https://web20ranker.com